For a meditation on how much art fairs sort of suck read Roberta Smith's NY Times article on the
The Armory Show
.
I've decided not to bother. Sure, I got depressed sometimes. Sure, I think it's all over-done. Sure, I think some of it's crap. In light of the fact that there is a huge undertone of swindle to the art-world that all of us have already been disilluisioned by, and taking into account that we have reconciled ourselves to the conclusion that art cannot change the world for the better and that yes, the majority of it is about the money, I'm just going to point out the things I enjoyed or became interested in. After all; I still like art. I still like artists, and I even like some dealers and curators. I suggest looking at everything without thinking about how much it must cost. Information on galleries is a little absent because in most cases I forgot to care about which gallery I was at.

Ara Peterson
(click for an awesome web experience. Sorry, did not write down the title of this artwork.) I saw this piece in the
Ratio 3
booth, Ratio 3 is a San Francisco Gallery that also represents Philadelphia resident Ben Peterson. Some readers may recall that Ara was a founding member of
Forcefield
.
Jacob Dahlgren
Sydney
2006. His website is really cool and gives you a better idea of the scope of his work, make sure to check out the wall of dart boards.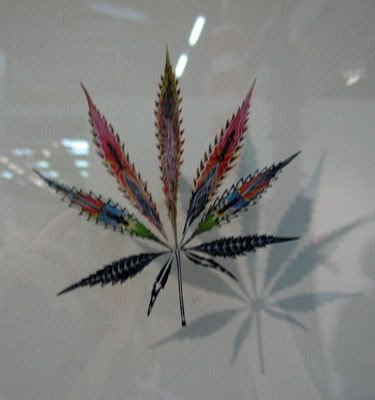 Eliezer Sonnenschein
(a good bit about him on JamesWagner)--yes, a drawing on a pot leaf. I would totally own this.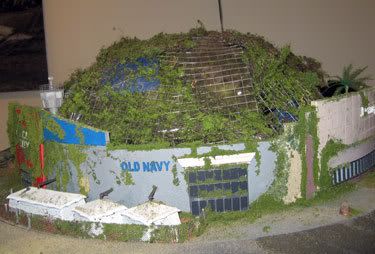 Jennifer and Kevin McCoy
Big Box (biosphere)
, 2008.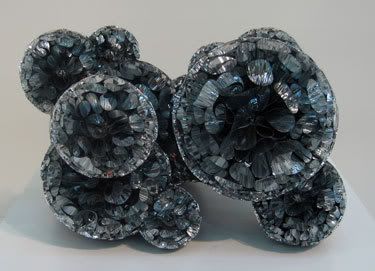 Tara Donovan
,
Untitled (mylar)
, 2008.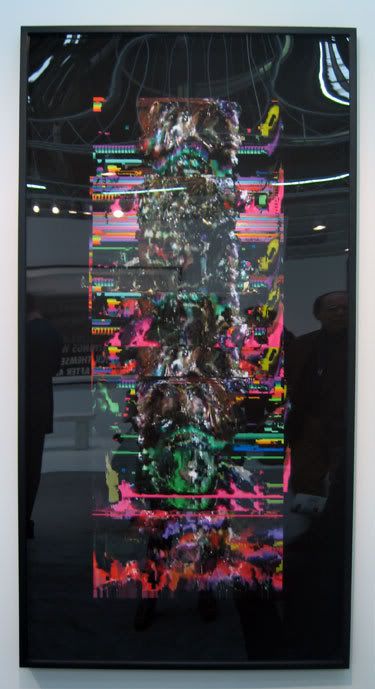 Takeshi Murata, also at Ratio 3.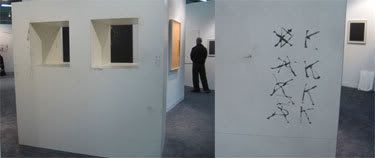 Sterling Ruby
,
Big Grid
2008.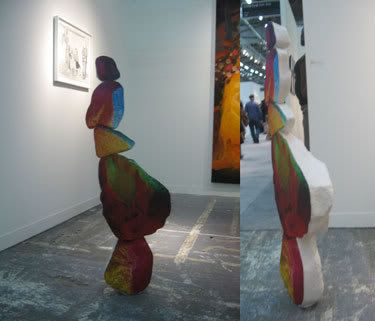 Ry Rocklen
,
Rock Balance (2)
, 2008.
Dennis Tyfus
.
Untitled
2008. Couldn't help but love this little drawing just tacked to the wall, lonely.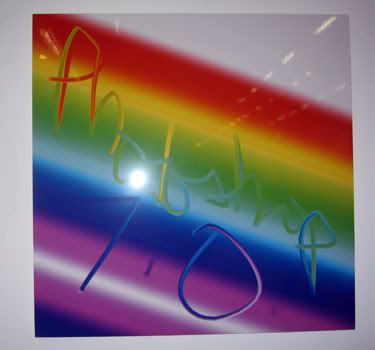 Yeah. Ha. Cory Archangel with
Photoshop Gradient and Smudge Tool Demonstration
2007. Also, I would own this if I could.
Colby Bird, go to his website if you want to feel like you're on
Terrence Koh
's website but you'll get more out of this
Village Voice article
. I almost feel dirty for liking this piece.
Richard Tuttle,
20 Pearls (1)
, 2003.
Noah Lyon
kept it real, selling buttons for $2, not a button installation for $12,000. Rad. Plus, while Noah and I were ranting about how lame The Armory was John Waters totally walked past us.
Mark Dion was EVERYWHERE, and for some reason I snap-shoted one of the lousier pieces. Still. . .
Brandon Lattu
!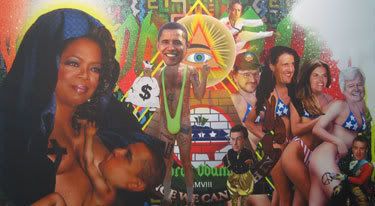 Kenneth Tin-Kin Hung
.
Residential Erection (Barack Obama)
2008, may be one way to solve the problem of how to sell work that was made for the internet. . .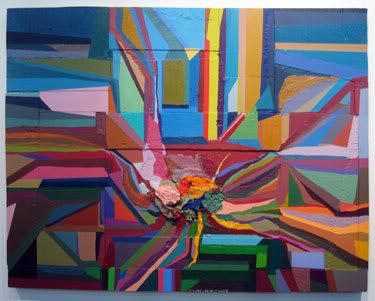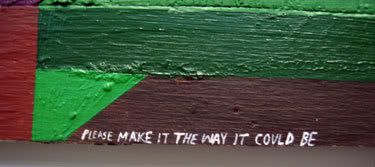 Chris Johansen who always seems like the voice of sanity.
MY NEW FAVORITE ARTISTS:
Mitzi Pederson
. I guess I've seen her work before, but I really started to relate to it while I was at The Armory. There is something transcendental about how beautiful cheap wood, glitter, cellophane, and string can look even though it's barely there.
Martin Jacobson
. There's not much around the internet on this man and the flick I took of his work sucks to hard to post, but I may have developed a bit of an art crush. He's Swedish, I guess.
P.S. If this post overwhelms you try visiting the fair. . .