Hey, welcome back.
If this is your first time visiting the blog this week let me fill you in; This Friday an exhibition I curated is opening at the
The Esther M. Klein Art Gallery
(3600 Market Street, Philadelphia 5-8pm). I'm taking the week to introduce the public to the artists in the show.
Today I'm sharing the work of A J Bocchino. Here are some pictures I took of A J's work as it appears in his studio during a recent trip to New York: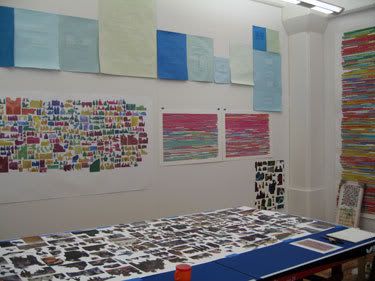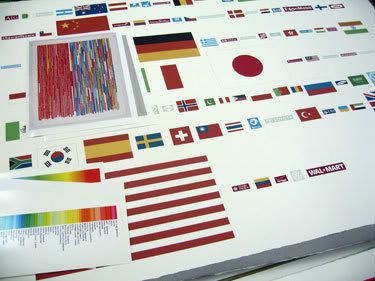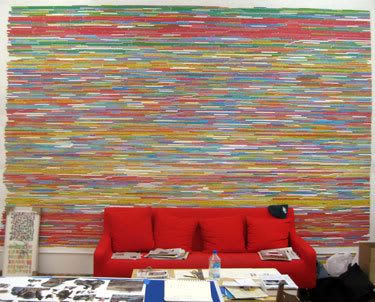 A J Bocchino seems to be most known for his New York Times Headlines pieces but he also makes prints of systems that involve flags, corporate logos, images, and other forms of data.
A J's work is different from most of the other pieces I have chosen to include in
Given Enough Eyeballs
, mostly because his work retains many of the properties of "traditional art". That is, it's on paper, you can hang it up, he creates large series of similar works, and you get more out of seeing the work in person then you do by looking at it on-line. The large, color-coded, images and headlines differ from our usual idea of a static work in that they are (usually) all on disk and A J can print them out to whatever scale fits best.
Two pieces by Mr. Bocchino,
The New York Times Headlines (1976-1985)
and
(1986-1995)
, will be on view. They are just what the title makes them out to be, the headlines of the New York Times from the years in question, all laid out in order, and awarded a color that corresponds to a category (i.e. politics, war, entertainment, etc.). When looking at the pieces you feel as if you've been given the cliff's notes for a decade, and it's rather unsettling to see all the names and histories you have forgotten. Every time I encounter one of A J's works I can't stop looking at them, It's startling to have history laid out in a comprehensive way in front of you and the prints almost fool you into thinking you can figure it (meaning life and etc.) all out. The work has the added bonus of being lovely, if you unfocus your eyes or stand back far enough you can pretend you are looking at an abstract formation of random color.
You can familiarize yourself with some of A J's other projects by following the links below:
An article in
Downtown Express
.
A large
wallpaper print
.
A slide-show at
neoimages