REFLECTION TIME
At
Copy Gallery
through March 29th. Opened by appointment (e-mail: info@copygallery.org) or Thursday-Saturdays 12-6 for the rest of the month.
In order to prepare to write a review of Dave Dunn's video installation
,
Reflection Time
, at
Copy
thru March 29th, I re-read a review I wrote on Dave's work when I was working as a blogger for Art in the Age of Mechanical Reproduction and Copy was called
Black Floor
and Black Floor was hosting all sorts of events at the
ICA
. You can read that review
here
, but I don't suggest it because I think I was full of poop. Not that the review is mean or anything, it just fails to see how great the work of Dave Dunn really is.
Reflection Time
, as an installation, is five videos on five TVs. Grouped together; are two TVs with videos of vacuum cleaners being turned and left on. On a separate table two TVs; one with a video of endless buses passing you by and one with a video of a disembodied hand (read as "Dave's hand" or "the camera person's hand") opening an endless stream of doors. There is one single television on a table by itself with a video of Mr. Dunn running through the streets of Philadelphia with a paper bag in his hand which he breathes in and out of, his other hand (not pictured on screen) holds the video camera.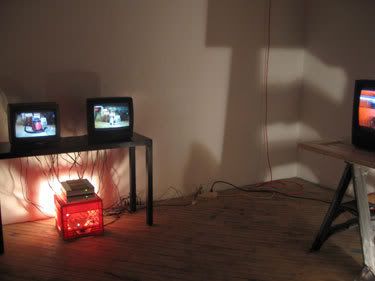 I am not sure if the videos are meant to stand alone or meant to be viewed as one piece. I don't think it matters, though your experience would be different if you fell upon one of the videos in isolation from the others. As they are, I believe a visitor to the gallery summed up the experience best when she said "This is stressful to watch."
Buses, opening doors, hyperventilating on the streets, vacuum cleaners running for no reason and producing a machine-like buzz, simultaneously. Infinity, because everything repeats on an endless loop and everywhere the evidence of the videos, tvs, and dvd-players being plugged into an electrical supply. The lighting is also a tad dramatic. All of this seems in opposition to the exhibition's name,
Reflection Time
, which is the only text Dave has provided us with to explain his meaning but I think I catch his drift. . .
The camera has done the recording, been the eye, as Dave has gone about his busy days. It has produced data. Now, in a small gallery on the 3rd floor of a warehouse-space, we have the chance to sit back and study it.