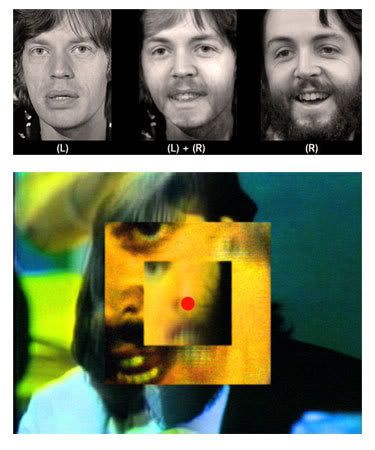 Yoshi Sodeoka
creates internet-based art, video art, design, and experimental noise. He's done pretty well at it, creating projects for websites like the Whitney Museum's Artport, rhizome.org and Wired.com, receiving grants from the likes of the Greenwall Foundation, and having works in the permanent collections of San Francisco MoMA and the Museum of the Moving Image.
A good many of his projects are available for your eyes to and ears to view on his website
c505
. You could spend all day on it, as I have done, and not be any closer to describing what you like about it and how you think it's relevant. Many of the articles on Yoshi like to point out that "he's a man of many hats" which makes it a little hard to pin-point a portrait of what his work is. He has many projects under many names and combined this makes for an awesome web experience.
The video on view in
Given Enough Eyeballs
is
Let It Bleed (Left) Let It Be (Right), The Stones And The Beatles Getting Tweaked At The Same Time
. It is a mash-up of documentation of The Stones playing
Let It Be
with The Beatles playing
Let It Bleed
. The audio of both songs has also been mashed, so what you have is an audio/visual portrait of what happens when you combine
Let It Be
with
Let It Bleed
. One reason Yoshi was drawn towards creating this frankenstein video is the history of
similarities
between the two songs and groups who wrote the songs.
Combing The Stones and The Beatles doesn't give us any new tangible information about a heated pop-culture
discussion
, but it may be the last word in discussing the discussion.