Ice Box
Nadia Hironaka
and
Matthew Suib
March 22-April 13, 2008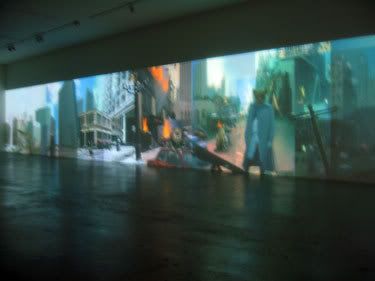 I never make it to "Second Thursdays", which is when most of the north holds their gallery openings, for the simple reason that I play quizzo at The Lost Bar on Thursday nights and some things are more important then art. So, while I believe everyone else in the world has already seen this video, and I'm only getting to it as it's about to close, I'm going to "review" it anyways.
Starters: I am amazed at the ambition and scope of this project and applaud the use of large-scale projections in a large-scale space, I hope many artists take note of this use of the space at Ice Box.
The projection itself, which reminds me of a video game background or a screen saver for a computer, seems like a really good try from a collaboration that also put together
Black Hole
(currently on view at Vox Populi and better rendered then it's monumental brother) but
Soft Epic
, a project I know for a fact was put together on a time crunch, falls a little short of the scale it is projected on. I have to say that because that's what I think, but I also think very highly of Matt and Nadia and expect them to strike oil sometime in the near future.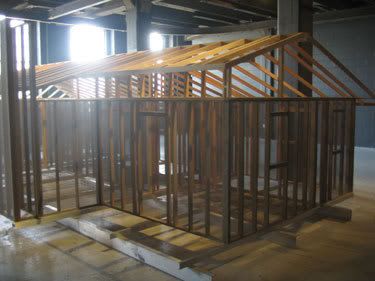 Also in the Grey Area
(The front gallery of the Ice Box) is a simple and elegant piece by
Michael Grothusen
,
Scale Model, From Memory
which is pretty much what the title suggests. A scale model of the house the artist lived in from 1973 to 1977, created from memories. As I used to (and still do sometimes on the train) draw memories of old TV shows, I really feel this work.