At
The Brooklyn
Museum
April 5th-July 13th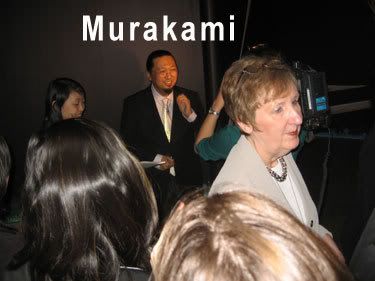 Going to The Brooklyn Museum to see the Takashi Murakami exhibit is a bit like going to the movies to see
Spiderman 3
. (Excuse the metaphor because
Spiderman 3
sucks way more then Murakami with a copyright symbol in front of it, Murakami etc. is actually way more like the ending of
The Host
, which is a great movie, with an ending that is maybe just a little bit too long.) You're really excited to see it, even though you know it's going to suck. But it doesn't matter that
Spiderman 3
sucks because you will always love Spiderman, nothing is going to stop that love, not even a bad movie. Takashi Murakami is a little bit like Spiderman.
So, you should go, spend way too much for popcorn and leave disappointed. Just like Spiderman, Takashi Murakami will never be capable of living up to his own name as long as he is alive.
Plus there is a Louis Vuitton Store in the exhibit, please feel free to follow the controversy as it first appeared on the left coast (actually no one seems to really care all that much):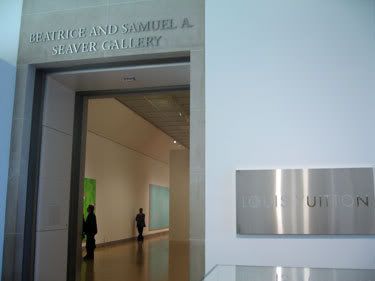 USA Today article.
Some highlights of the exhibition:
Carpet and some KaiKai KiKi cartoons. KaiKai and KiKi are reaccuring characters in Murakami's work, as well as the namesakes of his
company
: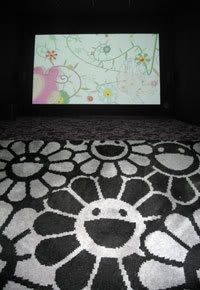 Super Nova, 1999
: It is very easy to make the scary comparison to this mushroom with eyes to a mushroom cloud. We should all need
no reminders
about what this
means
. This piece is actually devastating. In fact, all of the works in the show are really, really, sad. The studies for this piece, which are composed of many computer print-outs taped together, are my favorite pieces in the exhibition: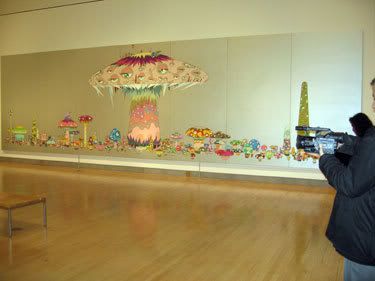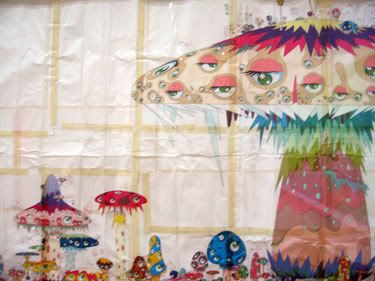 To tell you the truth I could have used twelve more rooms like this one, which housed several pieces with "Flower Ball" in the title: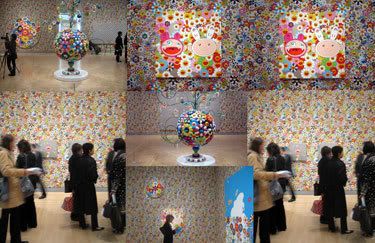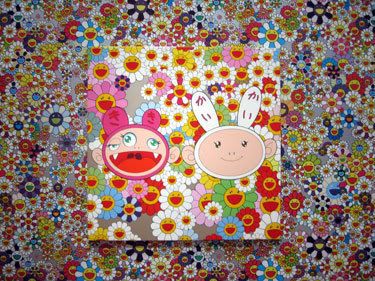 Here are the
Inochi
videos, I can safely say I don't get them at all: