Painted Bride Art Center
April 4th-May 17th
Jeanne Jaffe
,
Isaac Tin Wei Lin
,
Jackie Tileston
, Laura Watt, and
Andrew Jeffrey Wright
.
Curated by
Shelly Spector
Andrew Jeffrey Wright's "X-Wave" paintings
The artists in
Am the Rhythm
were all brought together because their work seemed musical to curator Shelly Spector, or to paraphrase, probably badly, from Wendy Weinberg's (whose name is mysteriously absent from the artist roster on The painted Bride's site. . . ) documentary on the exhibition; the works seemed to Shelly like they might start moving or make a noise at any second. I'll give them that and qualify that almost every piece in the exhibition had to call on some sort of obsessive-compulsive, rhythmic line-making during its creation. Ms. Weinberg's video, complete with scenes of the artists installing their work, also does a good job of pointing this out.
Though I thank the downstairs for introducing me to the work of Jackie Tileston and for a wonderful monolith of boxes by Mr. Isaac Tin Wei Lin, I always find the upstairs of The Painted Bride's front gallery to house the heart of the exhibition. The upstairs of
Am the Rhythm
greets you with a wall of cardboard boxes painted to a high-gloss black (also the work of Isaac) which creates two rooms; one a screening room for Wendy's meta-video
Am the Rhythm
, and the other (first room) a small gallery to house six
X-Wave
paintings by Andrew Jeffery Wright and a TV displaying an animation of infinite X-waves. I would have been happy with
Am the Rhythm
if the only thing there were the six new paintings by AJW, Isaac's high-gloss wall was a playful, brilliant addition and I like the entire concept of a documentary on an exhibition being screened at the exhibition that was its subject.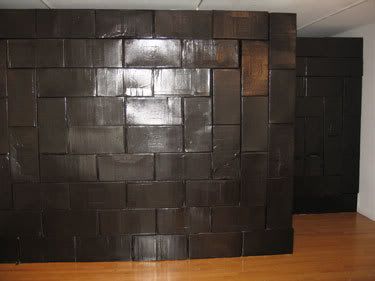 A wall of card-board boxes by Isaac Tin Wei Lin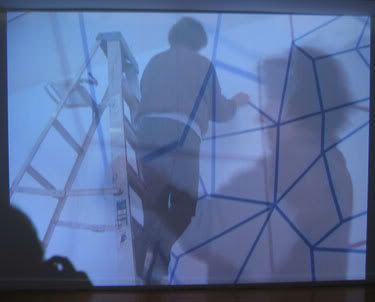 Wendy Weinberg's "Am the Rhythm"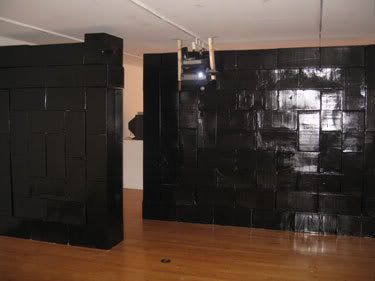 The inside of Isaac's wall